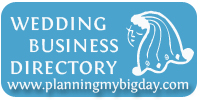 For balloons, chocolate and champagne fountains and more
Add Your Link - Web Directory. Add your link today.




Our Wedding Memories.co.uk - UK Wedding
Wedding Gazette
Transform your wedding inspirations into reality with helpful articles on wedding flowers, bridal showers, wedding favors, making a budget, dealing with Mom, and more. Free newsletter contains wedding trends, tips, shopping, and advice.